I don't know about you, but I'm sick and tired of seeing protests full of nothing but large signs full up with that wretched font, Impact (I'm looking at you, ANSWER Coalition).
For those radical designers among us who either can't afford or don't have access to mainstays like Gill Sans, Futura, or the 8 million flavors of Helvetica and Univers, I figured I'd assemble some of the best free fonts out there that will help make your posters both readable and awesome-looking. And even for those who have all the commercial fonts in the world, some of these free gems have a character not easily found in professional fonts.
A word of caution, however: the general rule of thumb with free fonts, even in this list, is "you get what you pay for." Expect to have to heavily tweak kerning, spacing between words and leading. And don't assume you'll find accents (or even lower case letters!) in all of these.
Enjoy the ten below, and by all means make more suggestions in the comments!
Yanone Kaffeesatz
Format: OpenType
Foundry: Yanone
Download
Kaffeesatz has been around for quite some time. It's on most "Top x best free fonts" lists, and for good reason. You get several different weights for free, the font itself is a delightful merger of playful and business, which can be a pretty useful tone to strike on your next poster. It's got got a tall x-height, which helps with long-distance readability, and some fun OpenType ligatures.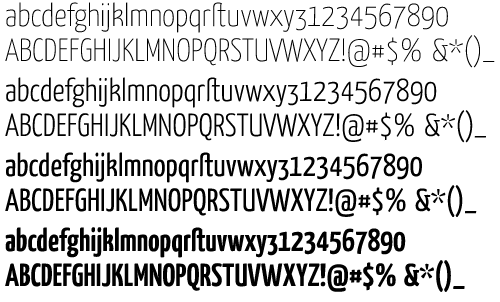 ---
Nordic
Format: TrueType
Foundry: Prismtone
Download
These two fonts harken back to the warm-yet-utilitarian geometry of New Deal-era typefaces. Unfortunately, we don't get any italics or lowercase letters (jerks), but at least we get two different weights, both available in "rounded."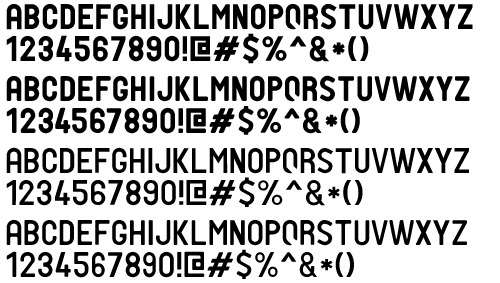 ---
MEgalopolis Extra
Format: OpenType
Foundry: SMeltery
Download
Also from SMeltery comes a great display font that is just itching to find itself on twenty-foot banners. Extensive OpenType ligatures and alternates is what makes this font shine, and can give your poster a more improvisational and decorative look, while still keeping two feet firmly in the realm of sans-serif.

---
Liberation Serif
Format: TrueType
Foundry: Red Hat
Download
This font, along with its less remarkable sans-serif version, was released by the linux distro Red Hat. It's an aggressive, sparse serif, which suits it particularly well to posters and signs that call for serif fonts. You've got the standard four flavors (regular, bold, italic, bold italic) comin' atcha.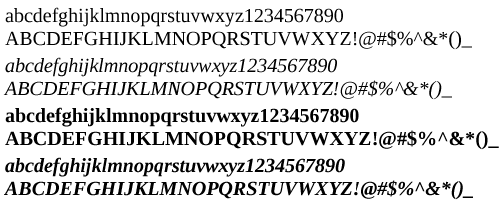 ---
Fette Engschrift
Format: TrueType
Foundry: Digital Typeface Corp. (now defunct)
Download
Fette Engschrift is a great font, especially when used on tall posters where horizontal space is at a premium. Unfortunately this font is a one-trick pony: no italics or additional weights are included.

---
Delicious
Format: OpenType, Type1
Foundry: exljbris
Download
It's the poor person's Meta, but you won't be hurting for quality here. We've got three separate weights, a genuine italic, and to top it off, a small caps flavor. Especially useful for those of us who like to tweak things after we've crammed everything onto a poster, line lengths don't change when switching between weights. And of course a tall x-height is a plus.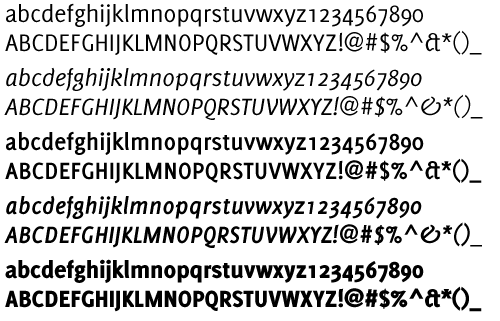 ---
Covington
Format: TrueType
Foundry: Apostrophic Labs
Download
Covington was produced by the prolific foundry Apostrophic Labs, who have also released heavyweights of the free font world like Day Roman, Asenine, and Scriptina. While it's a shame this is only in TrueType format, its redeeming factor is the many weights and widths that come with it (including a rare instance of outline shadow and backward oblique - good lord!). If they had charged several hundred dollars for it, I could swear it was an Emigré font (The OpenType "Pro" version of this font, with a ton more glyphs and kernpairs costs a whopping $10). I'd love to know what year this font was released. It smells like early 90s.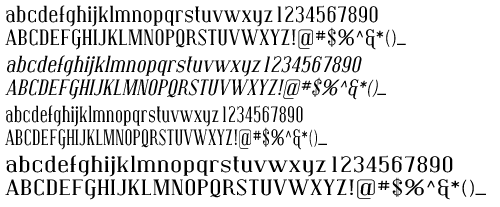 ---
Bombardier
Format: TrueType
Foundry: Apostrophic Labs
Download
Also by Apostrophic, this is a nice font to whip out when the subject of your scorn involves the military. Inclusion of lowercase letters is a very nice touch that you don't often see with these kinds of "army surplus" stencil-style fonts.

---
AUdimat
Format: OpenType
Foundry: SMeltery
Download
The capitals in this lovely font are very utilitarian, but the lower case and italics show a good deal more whimsy. Check the backwards-3 styled italic capital E.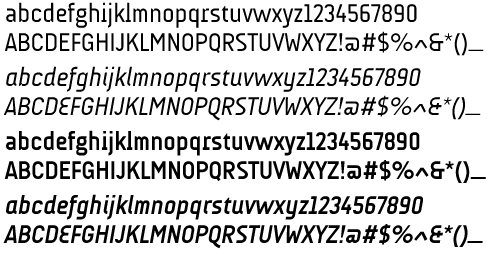 ---
Ashby
Format: TrueType
Foundry: Apostrophic Labs
Download
Ashby is a nice, pointy (quasi-)sans-serif. You're going to suffer some readability issues if you use too much lowercase, but both are funky enough to catch the eye and still be easily readable. Ashby Black Italic in ALL CAPS is particularly awesome.