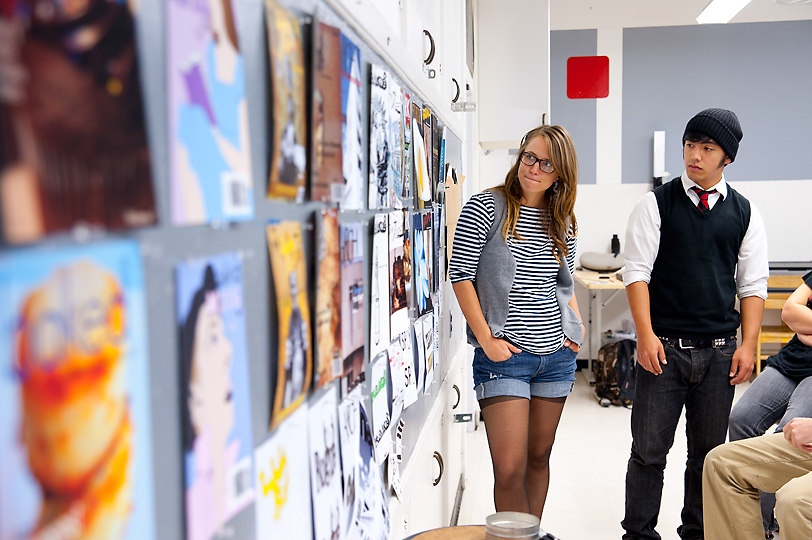 One thing my undergraduate design education sorely lacked was a firm grounding in critique. Oh sure, we had crits in each design course every week or two, but they were almost entirely exercises in strained politeness and back-patting. Students rarely received any sort of useful feedback, and the process, which should be the whetstone upon which our skills are sharpened, left us in the dark.
"I, um, really like the colors you chose," one student would say about a type design that we could all see was grievously mis-kerned.
I can't blame them for self-censoring. I did it too, afraid to be the only one who criticized. We were also, frankly, afraid of sounding stupid: we hadn't yet developed a vocabulary to describe and defend what to us just felt "wrong" on a visceral level. Most frustrating was the fact that the professors would rarely step up and hold us accountable for this kind of wish-washery. It ended up being one Painting prof who showed us how a rigorous, productive, and healthy crit should be done.
After graduation I continued informal crit groups among my former classmates and other newly-minted designers, mostly online or via videochat. And they were glorious: we all grew immensely as designers and communicators. The key is the understanding that the crit is a safe space. No one is out to undermine the other, we'd gather solely to review and assess each other's work, with the goal of making everyone's piece better.
But imagine if we were each pitching the same client, or designing entries for the same prize. Unless our bonds are particularly deep, such material conditions could easily destroy the atmosphere of trust and objectivity: the conflict of interest would likely be too much to bear.
I've actually seen this done: some design firms will show their client two different designs, designed and pitched by two different designers. Those meetings are easily the most tense "reveal stage" meetings I've ever participated in, and it's something I will move heaven and earth to avoid in my professional capacity. At EchoDitto, and in my other freelance projects, I've made sure that was policy from day one: honest critique and collaboration, not competition, is what will drive creative teams to the best solutions for their clients.
Fortunately, Braden Kowitz at Google Ventures has put together a great primer on teaching your team to critique. Check it out here.
As Braden puts it:
I know design critiques are a lot of work. They rob time away from other important tasks like writing code and replying to customer support tickets. But great design doesn't come from putting a designer in the corner and hoping they come up with the right solution. The best designs spring from collaborations between product, engineering, customer support, sales, and others. Simply put: Design is everyone's job. And if you're looking for how to contribute to great design, start by getting your team to participate in design critiques.
And if you're interested in the real nitty-gritty of implementing critiques, Scott Berkun has you covered, down to the size of the room and the kind of handouts to prepare.